Consultancy and Management of Projects and Wellness Areas
Ambitious goals deserve great results
QUALITY, TECHNOLOGY, INNOVATION and ENVIRONMENTAL SUSTAINABILITY, these are the pillars of every One on One Corporate Wellness project.
Starting from the consultancy in the design of multi-service wellness areas, studied from time to time depending on the needs of the workforce, up to the personalization of the environments and the realization of works and installations, this is what you'll find at One on One. Every Corporate Wellness project can also include the Business Plan creation and the complete management of the area through a highly qualified and constantly updated Fitness Crew, thanks to the One on One training program.
Personalized and Wellbeing-oriented performance strategies through which you can improve your lifestyle, promote well-being in the workplace, create Team Building and bring positive values to Corporate Identity.
Analysis
Analysis of available spaces, the company context, the characteristics of the company workforce and the type of work performed.
Planning
Planning of the necessary interventions to adapt the Area, if available
Product Defining
Consulting and development of a tailor made company wellness activity plan, unique and exclusive, with or without available business areas or rooms.
Health & Safety Executive
Complete management of legal, regulatory and insurance practices for the management of Wellness services.
Survey
Online questionnaires to find out the needs and expectations of the population and to calibrate the Wellness offer to the real needs
Profit & Loss
Calculation of the investment and Business Plan for the management of the area or of the corporate Wellness project.
Services Management
Conduction of the activities through cloud management systems.
Marketing
Marketing and communication activities carried out in agreement with the ownership or managed independently.
Staff Management
Direct management of personnel and organization of the activity in all its parts.
Costumer Care & Reporting
Dedicated customer care, with toll-free number, email, online customer care form for the user of the service. Monthly reporting on the progress of the activity for the company's HR Department.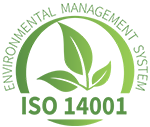 Enviromental Management System